Spas
Who doesn't dream of having their own spa or hot tub? Relax after a busy day at home. In the house or outside? At Platinum Wellness you will find spas and hot tubs at a competitive price. No cheap fakes, but only spas and hot tubs from well-known brands such as Villeroy & Boch, Aquavia or Platinum. Be sure to pop in if you're thinking of buying a spa or hot tub. Our customers praise us for our comprehensive service and in-depth expertise.
Spa or hot tub in your home - the benefits
Buying a spa or hot tub for your home brings a lot of interesting benefits. Not just for you personally. You also increase the appearance of your home.
Say goodbye to stress. You can relax in the comfort of your own home. A regular visit to your personal spa promotes blood circulation and reduces pain and other complaints such as stress, back and neck pain, osteoarthritis, arthritis and fybromyalgy.
Because your spa or hot tub requires a minimum of maintenance, you'll enjoy year-round at a limited cost. Did you know that the effects on your health are greatest in the cold months?
By installing a spa or hot tub, you increase the appearance and ultimately the value of your home. Our spas and hot tubs are fully adaptable to your specific needs and requirements. Inside or outside? In your garden or on your terrace?
Platinum Wellness provides a top quality spa or hot tub at an interesting price.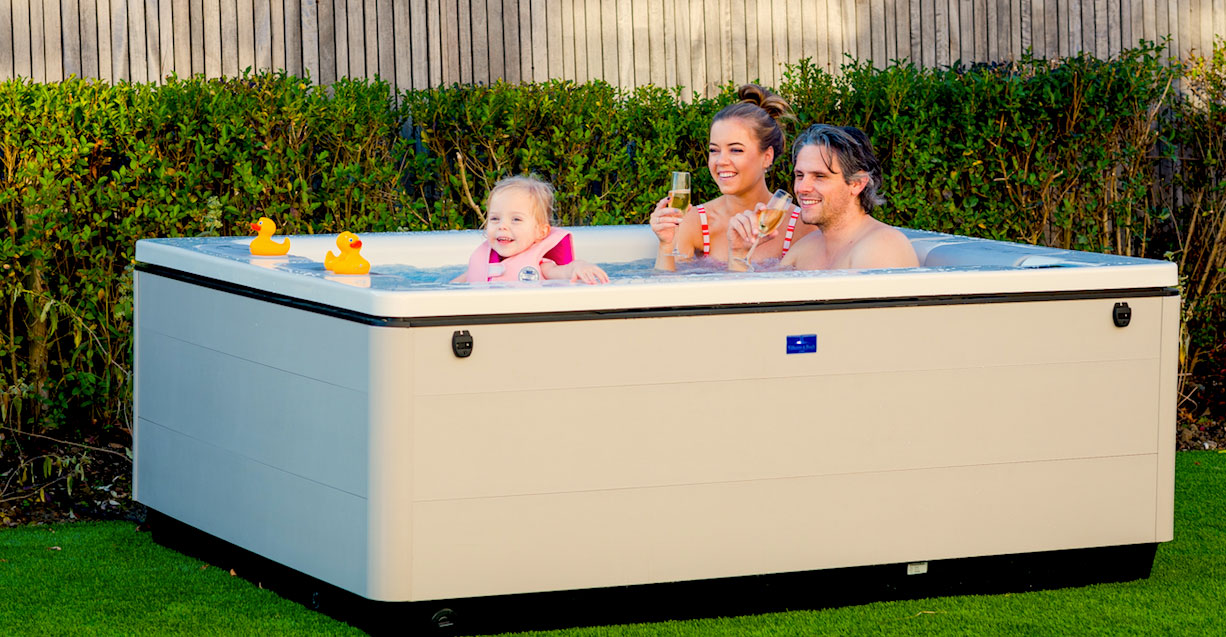 AquaVia Design Spas
AquaVia Spa is the leading European manufacturer of luxurious spas with high-quality finishes.
You have a wide choice in 5 top series, ranging from a compact spa for 3 people to a super luxurious version for 6 people.
You can also compose an AquaVia spa your favorite color of both the shell and the casing yourself.
Visit our showroom and taste the luxurious and solid appearance of our models!
To the models


More info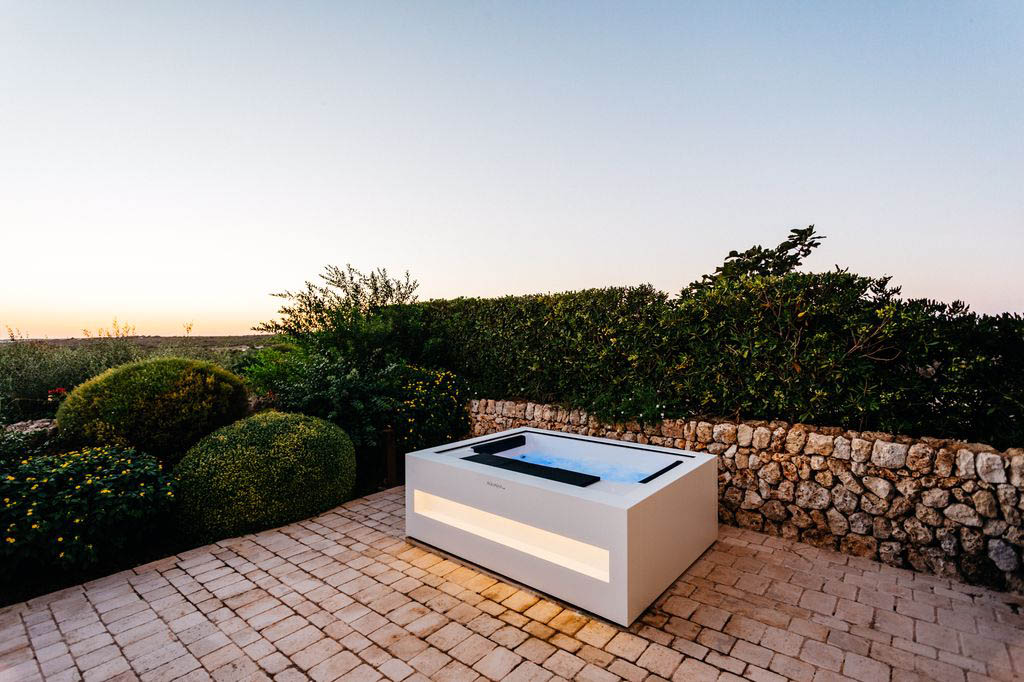 Platinum Spas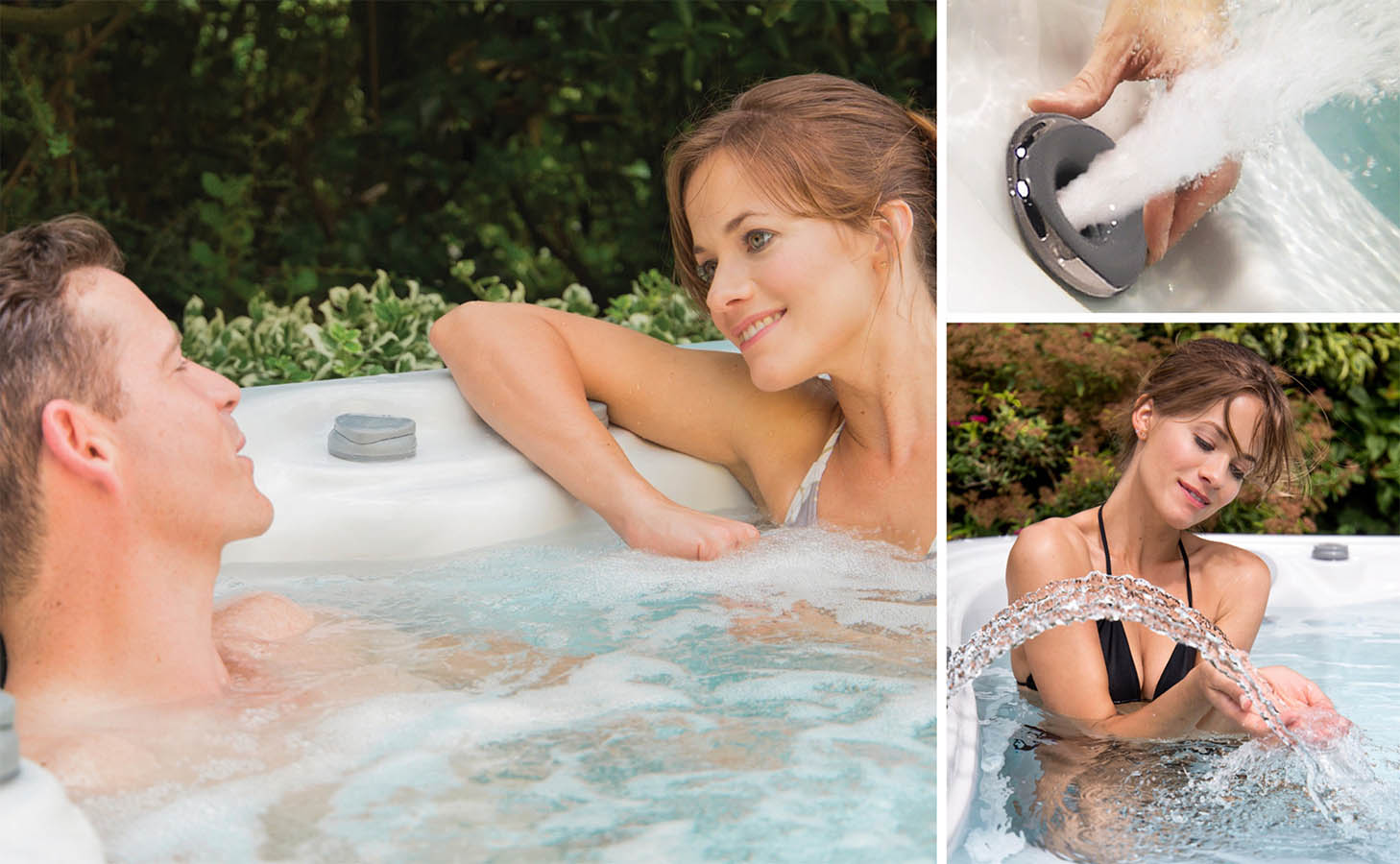 The Therapy series offers a very complete spa for a competitive price.
This range has different models ranging from a 3-person up to an 8-person spa.
More info
Spa, bubblebath, whirlpool of jacuzzi ?
The terms spa, hot tub and jacuzzi are often used interchangeably, but that is not entirely correct in principle. We look at the origins of the words spa, hot tub and jacuzzi to create clarity.
Today, the word spa is used in various meanings. In addition to a hot tub, people can also talk about a resort or wellness center.
He built a resort around it and called it 'The English Spaw'. That is the first generic description of the word spa.
In commercial contexts, it is often claimed that the spa is an acronym for the Latin proverb "Sanitas Per Aquam" or "Health through water". However, this is unlikely.
A hot tub is the literal translation of the American brand Whirlpool. A hot tub takes its name from its operation. A hot tub is a – multi-person – sitz bath with a temperature of approximately 37°C. At the bottom – spread over the hot tub – air is pumped, creating flows with rising air bubbles.
Jacuzzi is by far the most commonly used term to describe a spa or hot tub. However, nothing could be further from the truth. Jacuzzi Brothers is an American company founded in 1915 by the Italian brothers Jacuzzi. The company mainly focused on the development of aircraft propellers. In 1956 Candido Jacuzzi developed a special pump to provide his rheumatism-suffering son with hydrotherapeutic treatments to relieve his pain.
In 1968, Jacuzzi launched the first hot tub with integrated jets on the market. By 1970, Jacuzzi's hot tubs had evolved to allow an entire family to enjoy them at the same time.

The word spa is derived from the Belgian city of Spa. In the Middle Ages it was believed that diseases caused by a shortage of iron could be remedied by drinking ferrous spring water. Since 1326, Spa has been frequented by people in search of the beneficial power of the Spa spring water. A British visitor to Spa discovered a similar spring near Yorkshire in the 16th century.
Buy a hot tub at a competitive price
If you want to buy a hot tub at a competitive price, you are always at the right place at Platinum Wellness. Years of experience and an extensive trade network allow us to always offer you an interesting price for your new spa or hot tub. Our customers praise us for our comprehensive service and no-nonsense approach.

View detailed information about our different spas and hot tubs: