swimming spas
The benefits of a swimming spa

Want to buy a swim spa and enjoy yourself optimally in the comfort of your own garden? Pure luxury!

When you decide to buy a swim spa at Platinum Wellness, you provide pure luxury in the comfort of your own garden. Our warranty? A top quality swim spa at a competitive price.
The benefits of a swim spa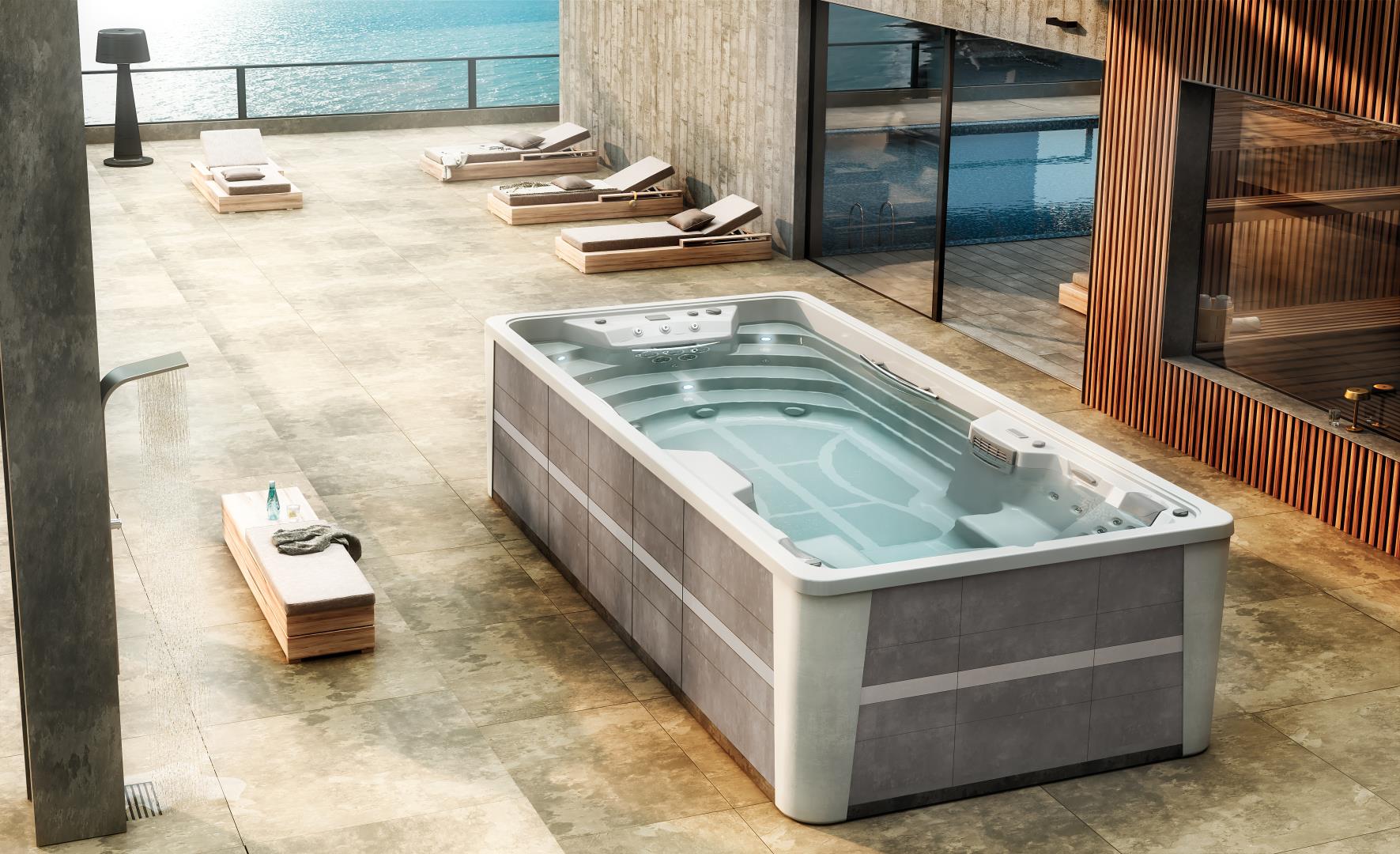 Fun all year round

When you decide to buy a swim spa, you can enjoy Wellness at your home all year round. Enjoy sports or relaxing. With a swim spa you have fun 365 days a year. Both inside and outside.
Pure water

Our 'Pure Water' products, in combination with the built-in ozonator with double cartridge system, is your guarantee for clear water free of algae and bacteria. We see it as our mission to keep your swim spa in top condition.
Combination of relaxation and sports
A swim spa combines the wonderful relaxation of a
jacuzzi
with the sporty side of a swimming pool. Want to swim laps? Your swim spa is equipped with powerful jet streams that you can adjust to your liking. Thanks to these jet streams, you can continue to swim on site in your swim spa. Had enough swim training? Then you can enjoy a soothing bubble bath in the jacuzzi section of your swim spa.
Compact
The miniscule dimensions are an added benefit of a swim spa. For a decent swimming pool, you immediately have to give up a large part of your garden. A swim spa, on the other hand, has a much smaller surface area. It is therefore the ideal solution for someone with a smaller garden. This compactness is also an important advantage if you want to have your swim spa installed indoors.
Our collection of swim spa models
Buy a swim spa at a competitive price? Discover the possibilities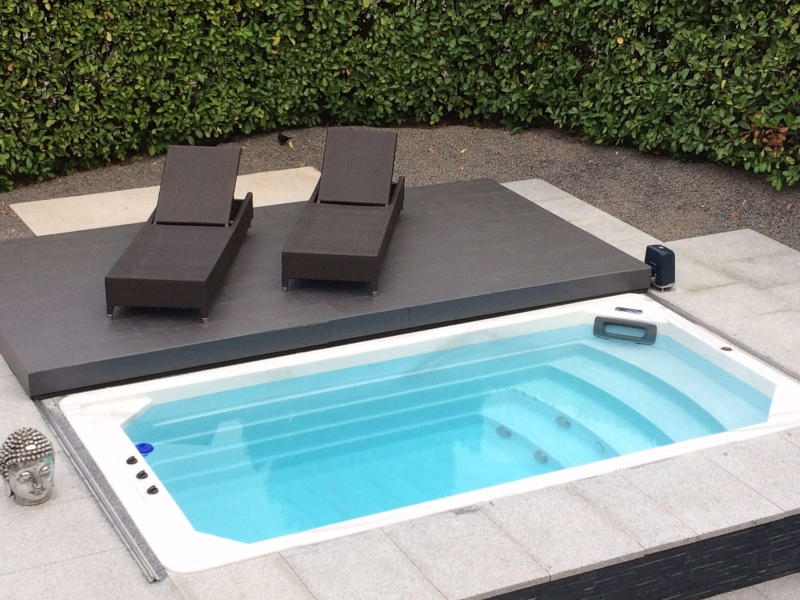 Z-Pool swim spas
Our Z. Pool swim spas are characterized by their clean lines and therefore resemble a traditional swimming pool. A Z. Pool swim spa has a generous staircase that runs the full width of the spa. The swim spa contains 6 powerful power jets powered by 4 motors.
These swim spas are suitable for both novice and advanced swimmers. Z. Pool's luxury swim spas have been developed with one single thought in mind. To offer you the highest possible swimming comfort.
A Z. Pool swim spa is equipped with RGB LED lighting in its standard version. Optionally we can build in an invisible audio system.
Click here for our Z-Pool swim spa models
Swimspa 1 zone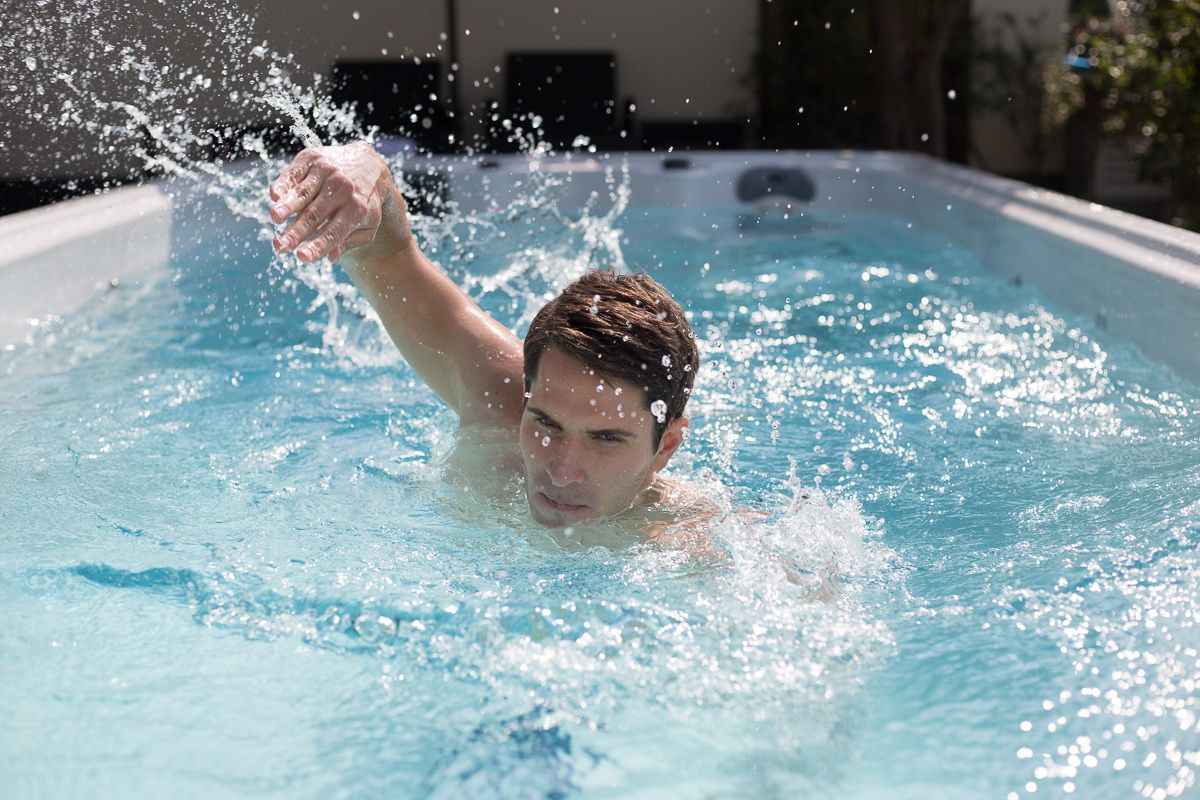 A One-Zone swim spa is a tailor-made solution for everyone who wants to swim and enjoy themselves. One-Zone swim spas consist of 2 overlapping parts. On the one hand, the swim spa is equipped with powerful swim jets so that everyone can swim at their own pace.
On the other hand, there are various reclining and seating areas with relaxing massage jets. This way you can enjoy a good massage after swimming.
Our One-Zone swim spas are available in 2 different heights. A standard One-Zone Swim Spa has a height of 119 à 129 cm. Models from the High series are available with a height of 154cm.
Click here for our One-Zone swimspa models
Swimspa 2 zones
When you choose a Dual-Zone swim spa in your garden, you choose pure luxury. Dual-Zone swim spas combine a swim spa with a Jacuzzi. Because both parts are separated from each other, you can create 2 different temperature zones. In a Dual-Zone swim spa you have the option to set the swim area to 26 à 30°C, while the water in the jacuzzi zone has a blissful temperature of 36à 39°C retains.
The Jacuzzi area can accommodate 3 to 5 people, depending on the type of swim spa you choose.
Every seat and berth in this luxury swim spa is equipped with completely different massage functions. We recommend that you move regularly to enjoy an optimal massage.
The swimming area of ​​the Dual-Zone swim spa has a very sleek finish. This way you always have enough space for a pleasant swim. The powerful jet stream consists of 6 counter-current jets and is fully adjustable so that both novice and advanced swimmers can enjoy themselves.
Click here for our Dual-Zone Swim Spa Models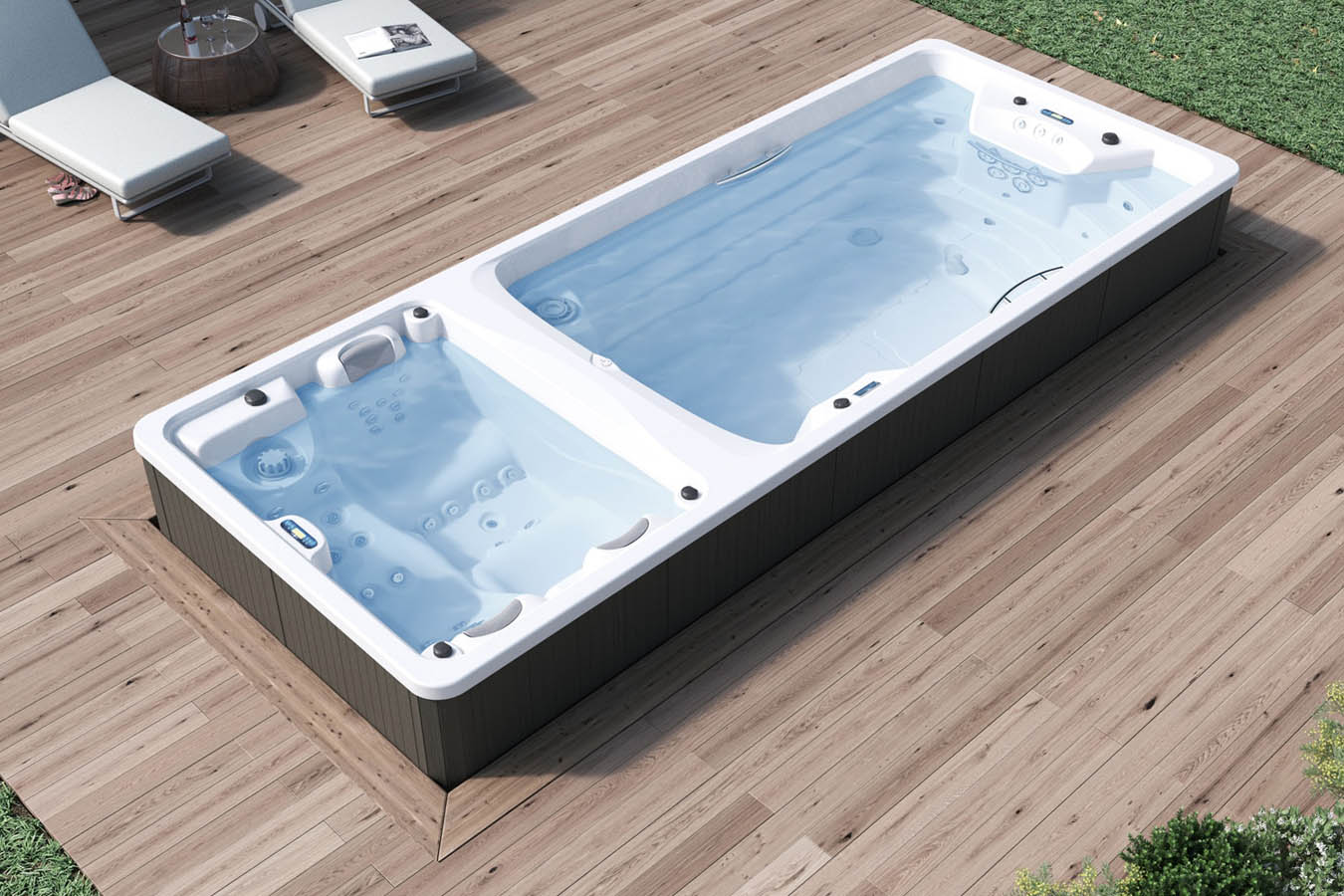 A competitive price for your personal swim spa?
If you want to buy a swim spa, the prices can be far apart. The price of a swim spa depends on several factors. For example, the size of the pool, the layout, the number of seats, the number of propellers and the extras you want will influence the final price of your swim spa.
In addition, you also have to take into account the costs for transport and installation. A swim spa is usually pre-assembled and delivered and installed as one piece. Interested in a swim spa at an excellent price/quality?
Be sure to visit one of our showrooms!